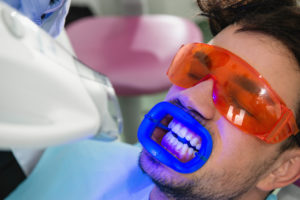 Nothing looks better than a golden summer tan except maybe a brilliant white smile to accompany it. If you want to brighten your smile before summer vacation, it's time to contact your cosmetic dentist to learn more about effective, predictable professional teeth whitening options. Most practices offer both in-office and at-home teeth whitening solutions that deliver smiles up to ten shades brighter.

Benefits of Professional Whitening
If you want to brighten your teeth, don't waste time and money on dubiously effective store bought teeth whitening. Instead, get the results you want with safe, effective professional teeth whitening services. Some of the benefits of professional whitening include:
Predictable results up to ten shades brighter.
Safer, doctor monitored treatment that avoids sensitivity and unintentional damage.
Long lasting results with proper care after treatment.
Why Store Bought Whitening Kits Aren't as Effective
Store bought whitening kits promise dramatically brighter smiles. However, these kits are typically unable to deliver the promised results. There are two main reasons these store bought teeth whitening kits don't deliver the results they promise. The first reason is that strict health and safety regulations mean that only a very minimal amount of active whitening agent is provided in these whitening products. In addition to the ineffective dosage of whitener, store bought kits also use a one size fits all application tray. This means that the whitening agent is able to seep out of the tray and potentially damage soft tissue. It also means that neutralizing saliva can access the whitener and stop the reaction before it's effective.
Meet Dr. Chaffee
Experienced Newbury Park cosmetic dentist, Dr. Gary Chaffee, offers a wide range of smile enhancing treatment options for patients at Paraiso Family Dental and Orthodontics. If you want to brighten your smile this summer, ask about our teeth whitening options, including Zoom! in-office teeth whitening and professional take-home whitening kits. Zoom! whitening is completed in about an hour at our dental office, and your smile will be six to ten shades whiter after treatment. Our take home kits deliver the same results over the course of two weeks of short, daily applications – typically just 30 minutes a day. Take home kits are also great to touch up in-office whitening results. If you want to learn more about your cosmetic dentistry options, call to schedule a consultation appointment in our Newbury Park dental office. We look forward to helping you get a flawless, white smile you'll be proud to share.