Full & Partial Dentures – Newbury Park, CA
Eat, Speak, and Smile Normally Again
If you're missing one or more teeth, you know smiling just hasn't been the same since your tooth loss. Living with an incomplete smile is damaging to more than just your self-confidence -- but full or partial dentures are a wonderful option in tooth replacement that restores your ability to eat, speak and smile with ease. And with recent advancements in dental technology, today's dentures are more natural-looking and comfortable than ever before. Keep reading to learn more about full and partial dentures from our Newbury Park, CA dentist, Dr. Gary Chaffee.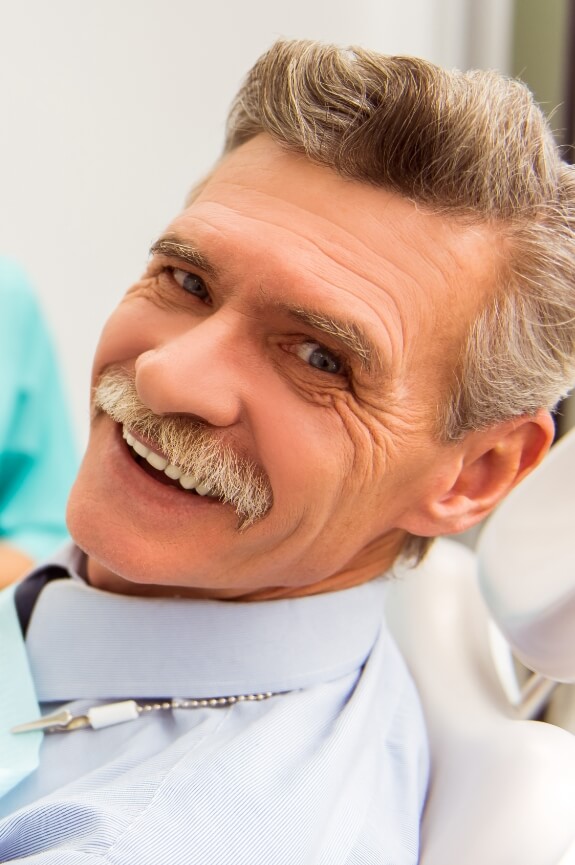 Why Choose Paraiso Family Dental & Orthodontics for Dentures & Partial Dentures?
Beautiful Custom-Made Restorations
State of the
Art Technology
Dentist with Many Years
of Experience
Partial and Full Dentures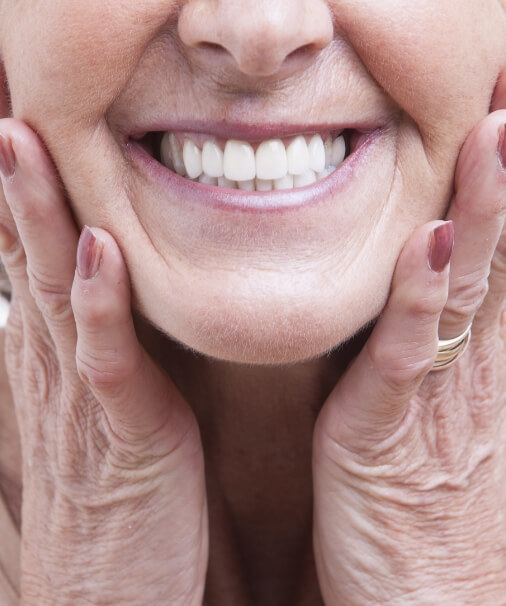 A denture is a tooth-replacement device made up of prosthetic teeth attached to a gum-colored base. When several teeth have gone missing, whether they're lost all in a row or from different parts in the mouth, a partial denture (also simply referred to as a "partial") is the ideal option for replacement as long as the surrounding teeth are healthy. It fits into the mouth like a missing puzzle piece. Full dentures replace a whole row of teeth that have gone missing or need to be extracted from the top or bottom of the mouth.
When not supported in the mouth by dental implants, partials may be secured by clips or brackets. Full dentures are secured either by suction or with an over-the-counter denture adhesive.
Dental Implant-Retained Dentures
The best option for securing dentures in the mouth is with dental implants. While they may come at an increased initial cost compared to non-implant retained options, they're actually the best investment you can make in your smile in the long run.
These tiny titanium posts act as prosthetic roots, fusing into one solid unit with the jawbone to provide unmatched stability for the tooth replacement that sits on top. Nothing else gives you back your tooth as well as its root-like dental implants.
Aside from increased security for easier speaking, eating, and smiling, dental implants also improve oral health by providing the stimulation your jawbone needs to stay whole. Without it, the mouth will slowly lose volume and change shape as the bone gradually degrades -- requiring numerous re-fittings of a non-implant retained denture. Added benefits of choosing an implant-retained device include the following:
Freedom from messy denture adhesives
No stress that the denture will slip around or fall out at inopportune moments
A device that fits well for years to come
Improved jaw health for a more youthful-looking face shape
When cared for properly, dental implants can be expected to last a lifetime.
If you're looking to make the wisest investment for your budget and the best choice for your oral and overall health, you can't go wrong in choosing dentures retained by dental implants.