Full-Mouth Reconstruction – Newbury Park, CA
Rebuild Your Entire Smile
For most people, preventive maintenance and minor restorative work are enough to keep their smiles in good shape. However, there are some instances wherein more serious intervention is necessary to ensure that patients can enjoy the many benefits of a functional, healthy set of teeth. Dr. Chaffee and the rest of our team possess the skills and knowledge to correct even complex dental issues, so you can smile, speak, and eat with confidence after full-mouth reconstruction in Newbury Park, CA.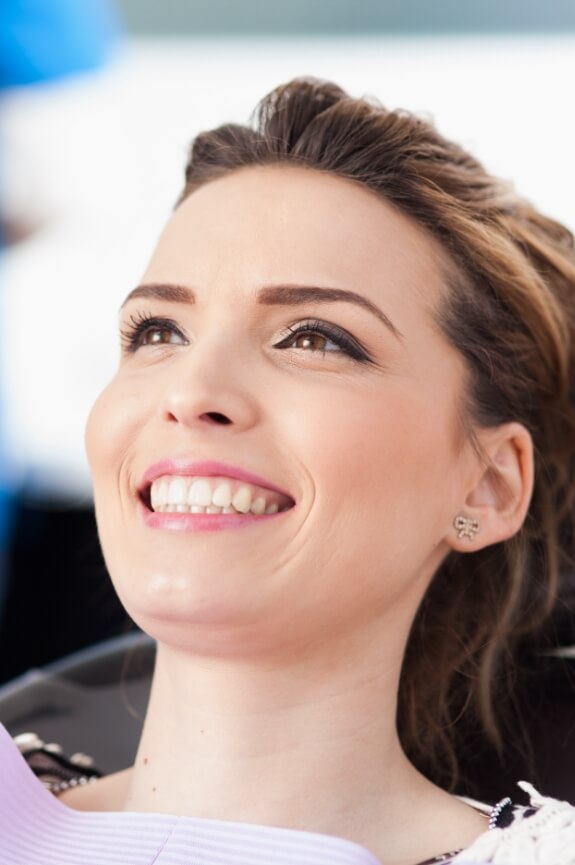 Why Choose Paraiso Family Dental & Orthodontics for Full-Mouth Reconstruction?
One Stop for Comprehensive Dentistry
Highly Experienced Dentist and Orthodontist
Warm, Friendly, Welcoming Dental Team
What Is Full-Mouth Reconstruction?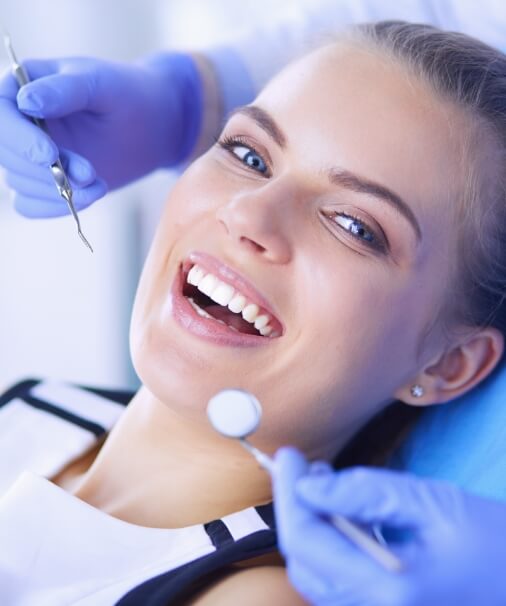 Full-mouth reconstruction is not a treatment in itself. Rather, it is a treatment plan that takes place over the course of multiple dental appointments. It is a customized approach that has the goal of helping patients who suffer from severe dental problems that affect all or most of their teeth. In some cases, several dentists, including surgeons and other specialists, team up to carry out full-mouth reconstruction.
If any of the following are true of you, you may be a candidate for full-mouth reconstruction:
Oral cancer has greatly affected the way your orofacial structures function
You are missing all or most of your teeth
Due to bruxism (teeth grinding) or other factors, your teeth are severely worn down
Misalignment has affected your bite and has caused damage to your teeth
Poor oral hygiene or an unhealthy diet has led to extensive tooth decay
An injury caused serious damage to your teeth and other oral structures
What Steps Are Involved in
Full-Mouth Reconstruction?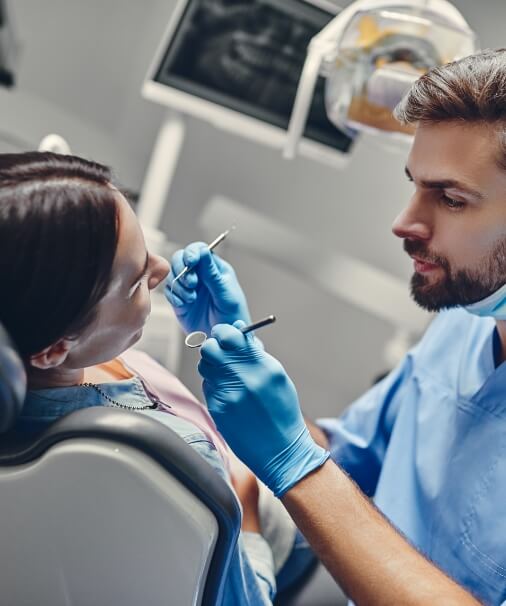 The first step in full-mouth reconstruction is an in-depth consultation with your dentist in Newbury Park. After Dr. Chaffee performs a visual examination, takes some X-rays, and talks to you about your goals for your smile makeover, he will begin discussing your treatment plan. Some of the procedures that you may have to undergo include:
Orthodontic treatment
Dental implant placement and reconstruction
Surgeries to correct structural defects
Dental crowns
Periodontal therapy
Cosmetic treatments, such as porcelain veneers or metal-free restorations
From beginning to end, a full-mouth reconstruction may take several months or even a few years, depending on the extent of the problems that need to be addressed. Once your process is complete, our team will coach you on how to maintain your restored smile. Usually, maintenance is fairly simple and may involve things such as wearing a retainer, visiting us for regular checkups, and sticking to a thorough oral hygiene routine.
What Are the Benefits of
Full-Mouth Reconstruction?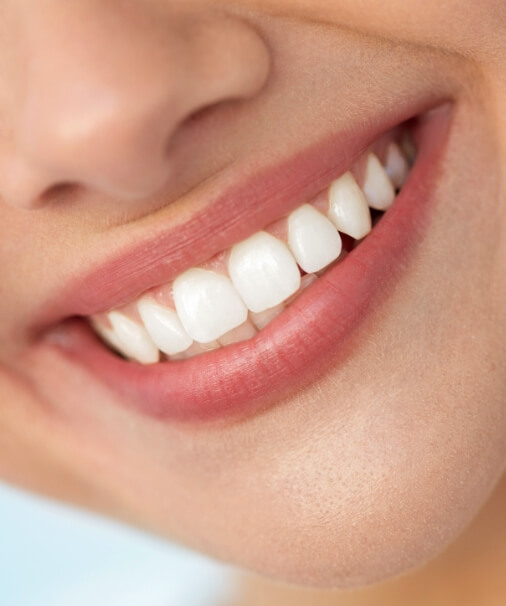 If you are dealing with severe dental problems and you choose to undergo total teeth restoration, you have a lot to look forward to! Some of the positive results from a full-mouth reconstruction may include:
Easier eating. Strong, well-aligned teeth will make it easier for you to enjoy all of your favorite foods, including juicy steaks and crunchy vegetables.
Pain relief. Correcting bite problems may relieve symptoms of TMJ disorder. Furthermore, repairing or replacing teeth can spare you from the agony of cavities and overly sensitive teeth.
Long-term health benefits. Your oral health and overall health share an intimate connection. Addressing problems like gum disease and missing teeth may reduce your risk of certain systemic illnesses.
Increased confidence. Few things are as good for your self-confidence as a beautiful, healthy smile. You'll be eager to show off your gorgeous, restored teeth!
Full Mouth Reconstruction FAQs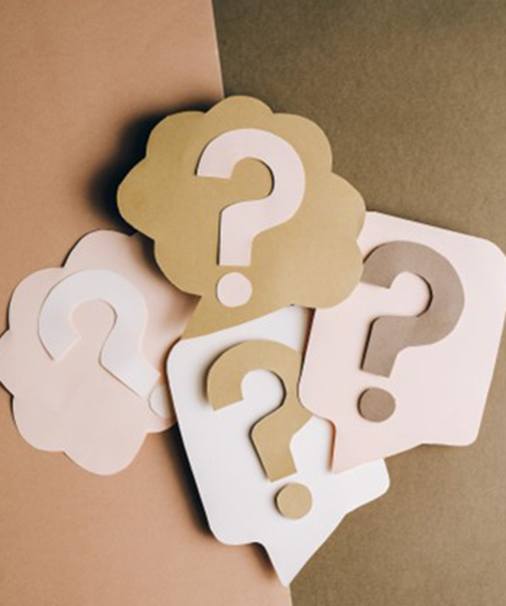 You can have a beautiful, healthy smile with full mouth reconstruction in Newbury Park; however, it's a big investment. It is normal to have a few concerns before you are ready to get started, but we will explain everything during your consultation. In the meantime, here are the answers to a few frequently asked questions to ease any apprehensions.
How long does full mouth reconstruction take?
Full mouth reconstruction isn't a single procedure. Instead, it consists of one or more treatments tailored to your needs. Since every mouth and situation differs, each patient's timeline varies. Minor issues may require 1 or 2 appointments, while more complex cases can take several visits. We know your time is valuable, which is why we use the latest technologies and techniques to streamline the process while ensuring the best results. After examining your mouth and creating a strategy to revamp your smile, your dentist will explain how long you can expect the process to take. You can prevent delays in your plan by following your dentist's aftercare instructions and maintaining your appointments.
Do I need full mouth reconstruction?
If you have several damaged or missing teeth affecting the health or function of your smile, you may be a candidate for full mouth reconstruction. Specific cosmetic and restorative treatments are used to address common issues, like significant decay, broken teeth, or infection. You'll require a consultation with your cosmetic dentist in Newbury Park to ensure it is right for you.
How long will my results last?
Since no two treatment plans are identical, there isn't any way of knowing how long your results will last without first having a consultation. Your dentist strives to provide solutions that offer long-lasting results; however, various factors will affect the lifespan of your new smile. You can get the most out of your investment with a solid home oral hygiene routine. Besides brushing and flossing, visit your dentist twice a year for a cleaning and checkup. It's best to break any bad habits that can compromise your results, like smoking, using your teeth to open bottles, or chewing on your fingernails. If you play sports, wear an athletic mouthguard to protect your smile. Your dentist will recommend wearing a nightguard if you have a habit of grinding or clenching your teeth.
Does getting full mouth reconstruction hurt?
You don't have to worry about a painful experience in the dental chair because your comfort is our top priority. Besides digital X-rays and impressions, we use less invasive techniques to minimize the risk of discomfort. Your dentist will also use a local numbing agent to block any pain. While you won't feel anything during your procedure, your mouth may be a little sore after the effects of the anesthetic dissipate. You can manage it using an OTC pain reliever. Your dentist will review any additional aftercare instructions, like eating softer foods, until any tenderness subsides.