Dental Implants – Newbury Park, CA
Restore Your Smile to the Fullest!
When it comes to replacing missing teeth, you have a few very good options. What you don't have is the option not to replace teeth that you've lost. Missing teeth can lead to a number of other oral health problems, such as shifting teeth, gum disease, and decay in other teeth. Furthermore, tooth loss can affect your general and psychological health, too. You may not be able to eat a well-balanced diet and just knowing that there is a gap in your smile is enough to make almost anyone self-conscious. At Paraiso Family Dental and Orthodontics, Dr. Chaffee and his team rebuild complete and beautiful smiles with dental implants in Newbury Park, CA.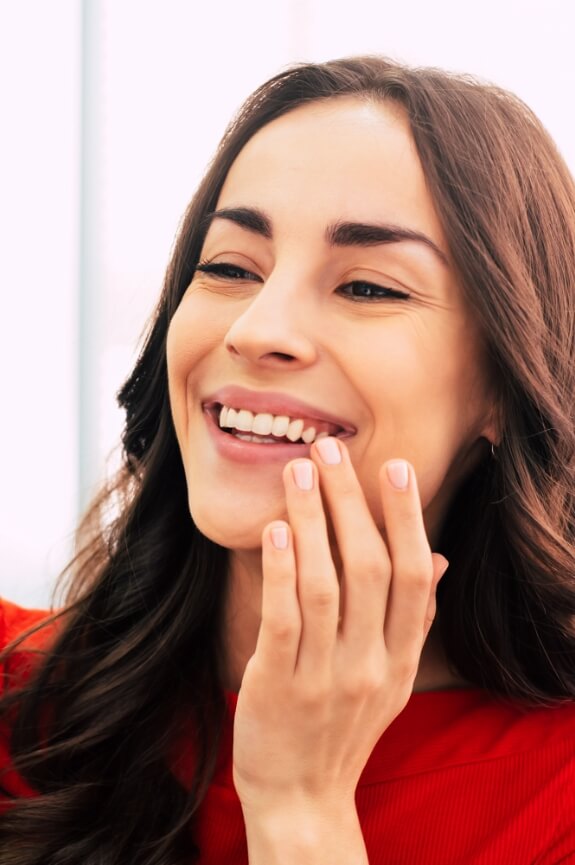 Why Choose Paraiso Family Dental & Orthodontics for Dental Implants?
Partnered with Local Implant Experts
Beautiful, High-Quality Restorations
Experienced Dentist and Friendly Team
The 4-Step Dental Implant Process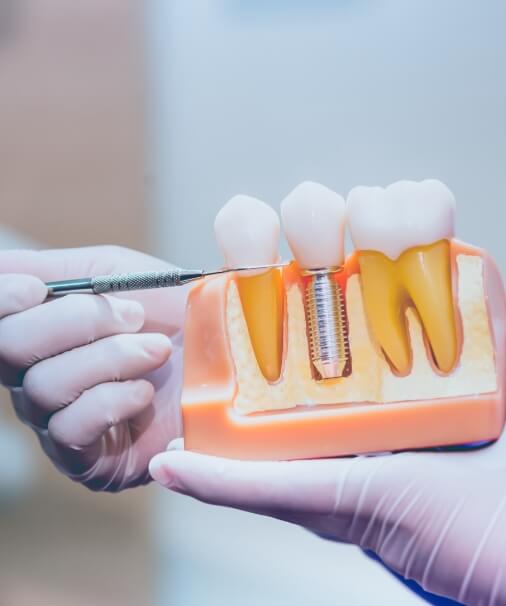 Your new smile with dental implants begins with minor oral surgery in our Newbury Park dental office. Dr. Chaffee makes a small incision in the gum tissue and carefully positions a small post in your jawbone. This post is made of titanium, a biocompatible metal that easily fuses with surrounding bone tissue. The fusion process is called osseointegration and happens over the course of a few months.
After you've completely healed and the post and bone are integrated, you'll return to see Dr. Chaffee. He will attach a tooth restoration—a lifelike porcelain crown for a single missing tooth, a partial for more than one consecutively missing tooth or an implant retained denture for an entire arch.
Benefits of Dental Implants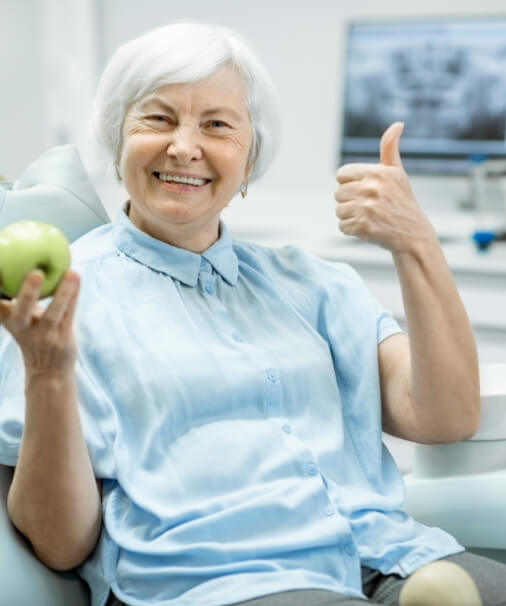 Dental implants stand out in the world of tooth replacement because they do far more than just replace the visible crown in your smile. Because the implant is designed to integrate with your existing jawbone, it receives regular stimulation from chewing and therefore helps you maintain your jaw's fullest biting force. That means you can eat the foods you enjoy with confidence and without worry that your new tooth will shift or become loose.
Additionally, dental implants are proven to be reliable for long-term use. With an average success rate reaching as high as 98 percent after a 10-year period, you can rest knowing that it will be able to handle everyday use. With proper care, your implant will last as long as 25 years and longer. In fact, many patients report their implant lasting closer to 30 and 40 years!
Who Dental Implants Can Help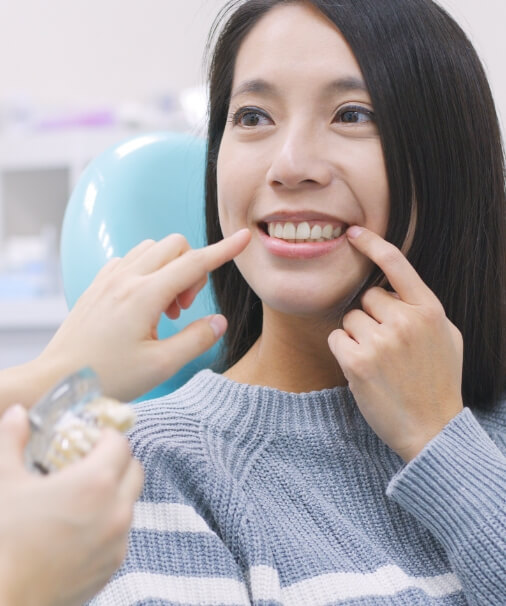 Generally speaking, most patients qualify to have dental implants. Dr. Chaffee will be able to consult with you to determine whether or not implants are right for you. Sufficient bone density is very important to firmly hold your dental implants in place. But even patients who have previously worn dentures and have some bone loss—a common occurrence among denture wearers—may be able to have a bone grafting procedure.
Also, patients who are smokers or who have diabetes may have more difficulty recovering from the surgical procedure required for implants. And every dental implant candidate must be dedicated to maintaining good oral health with daily brushing and flossing as well as regular checkups.
Missing Single Tooth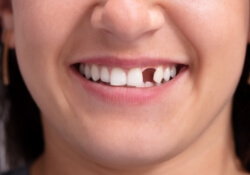 When replacing one tooth, Dr. Chafee uses a single implant and porcelain crown. Porcelain is used because it resembles tooth enamel more effectively than any other material; it even reflects light in the same way!
Missing Multiple Teeth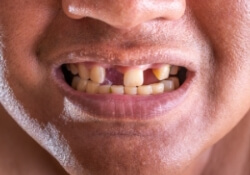 Dental bridges can also be fitted with dental implants to offer a more natural fit. Instead of buffing down existing teeth to hold the restoration, implant-retained bridges use a dental implant on either side of the restoration to anchor it in place.
Missing All of Your Teeth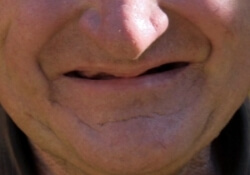 If you need to replace an old denture that doesn't fit properly anymore, an implant-retained denture can be crafted to be fixed or removable. Whether you're trying to replace the top or bottom arch, Dr. Chafee can provide a denture that feels comfortable and offers better stability than a traditional option.
Understanding the Cost of Dental Implants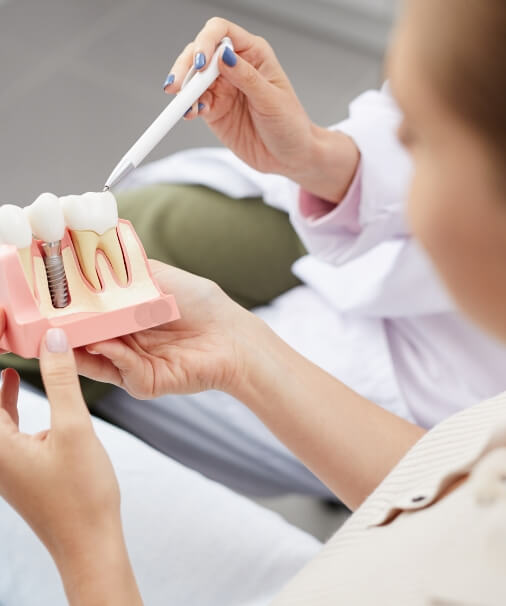 The cost of your dental implant treatment largely depends on a few different factors. These include the number of implants you plan to place, the type of restoration needed to restore those implants, and the preparatory treatments needed to place implants in the first place. While not all patients will need a bone graft or sinus lift to place implants, it's more likely going to be the case if you have been missing teeth for a long time.
Regardless of the cost of your treatment, dental implants are considered to be a long-term investment that lasts for multiple decades. When compared to bridges and dentures (which already don't last as long as dental implants), dental implants are considered to be more cost-effective as a result.
Dental Implant Frequently Asked Questions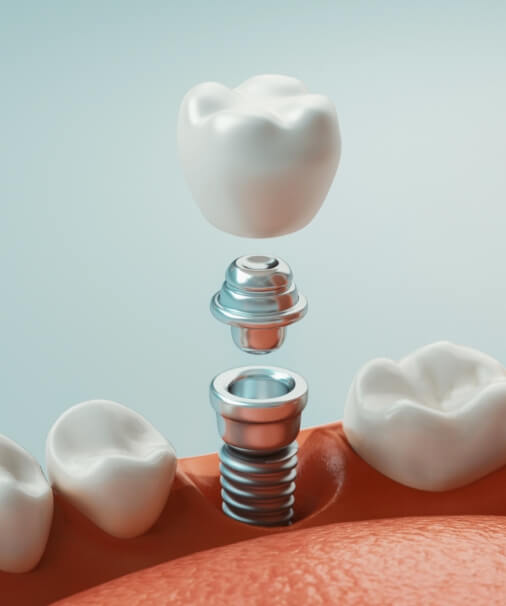 Do you have several questions about the process of getting dental implants in Newbury Park and how they work? With several tooth replacement solutions to choose from, it can be difficult deciding which one will be best for you. To help, our implant dentist has answered some common questions that we receive from patients below.
How long will the procedure take?
Each patient's dental implant treatment timeline varies depending on their unique needs. For example, a patient who needs a preparatory procedure such as gum disease therapy or a bone graft will need to allow extra healing time before they can have their dental implants placed.
The procedure typically takes place over the course of several months because there needs to be enough time between your dental implant surgery and your abutment placement to ensure that your titanium implants fuse with your jawbone and your gums heal properly. This can take several months alone, but it's also what provides dental implants with a variety of unique benefits, like exceptional strength and stability.
The best way to learn how long your procedure will take is to schedule a consultation with Dr. Chaffee. He will develop a customized timeline for you during your appointment so you know exactly what to expect.
Will I have to go without having teeth?
Even though you'll need to go through multiple healing periods, you won't have to go without teeth during the procedure. We'll either provide you with temporary restorations, or in some cases, you can continue using your removable replacement teeth with minor adjustments if your teeth were already missing. At Paraiso Family Dental and Orthodontics, we'll do everything we can to ensure that you're comfortable throughout the entire process.
How long do dental implants last?
As opposed to traditional restorations that typically need to be replaced every five to 10 years, dental implants can last over 35 years with the proper care. That means you won't have to make routine appointments to get your restorations relined, readjusted, and replaced.
The reason implants are able to last for so long is because they're made of titanium, which is a biocompatible metal that fuses with your jawbone through a process called osseointegration. After this happens, a thin oxide layer forms around them, which prevents them from eroding. This provides your replacement teeth with a long-lasting, strong, and stable foundation.
Does it hurt to get dental implants?
Many patients report feeling very little discomfort after implant surgery. Your implant dentist will ensure that you're completely numb and relaxed before the procedure will begin. Afterward, many patients experience minimal pain and swelling. Many patients are even able to return back to their normal schedules the very next day! It's important to keep in mind that the complexity of the surgery depends on a variety of factors, such as how many implants you need to have placed and where they'll be located. So, healing times can vary.