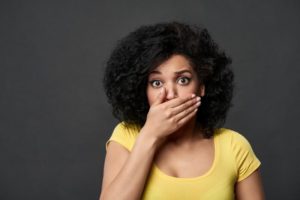 One of the quickest, easiest ways to boost your appearance and your confidence is with teeth whitening in Newbury Park. Recent research shows that a shining set of pearly whites can make you look younger, healthier, and more successful. However, if something goes wrong, you may end up with discolored, damaged teeth! Here are seven common teeth whitening mistakes that could ruin your beautiful smile instead of brightening it.
1.) Using Cheap Whitening Products
Remember, you get what you pay for. A cheap whitening product most likely contains low-quality, harmful chemicals. Keep your teeth and gums safe from permanent damage by spending a little more on a professional whitening treatment.
2.) Forgetting to Start with a Clean Smile
The whitening agent needs to seep into your enamel in order to lighten it. If it's blocked because your teeth are covered in food particles and plaque, the whitener will be much less effective. Start by brushing and flossing your teeth, or better yet, get a professional cleaning from your dentist.
3.) Trying to Whiten All of Your Teeth
Teeth whitening products won't change the hue of dental crowns, fillings, or porcelain veneers. Additionally, the process could be painful if the whitener makes its way into a cavity or damaged tooth. Your cosmetic dentist can help you spot and treat these issues before brightening your smile.
4.) Skipping a Custom Dental Tray
Without the close fit of a custom-made dental tray from your dentist, you may accidentally spill or swallow the whitening agent. Not only does this prevent it from working on your teeth, but it can also cause irritation in your gums or throat.
5.) Eating Right After Whitening
Directly after your whitening treatment, your teeth may be sensitive or more vulnerable to staining. Protect your results by refraining from dark-colored foods and drinks for at least an hour afterward.
6.) Using Whitening Toothpastes Everyday
Brushing with whitening toothpaste can polish away light surface stains thanks to abrasive compounds like calcium carbonate. However, daily use scratches away and wears down your enamel. Eventually, this will lead to weakened, sensitive, and dull-looking teeth.
7.) Not Checking in With Your Cosmetic Dentist First
With so many products available, it may be tempting to try tackling teeth whitening on your own. However, if you don't check in with your Newbury Park cosmetic dentist first, you may be in for a painful surprise or lack-luster results. With a professional teeth whitening from your dentist, you can confidently enjoy:
Safe and personalized treatment for your unique oral health and a comfortable experience.
Powerful whitening products that can provide fast, reliable, and dazzling results.
Professional care and support from your experienced dentist, who can answer your questions, protect your teeth, and help you achieve the smile you've always wanted!
About the Author
Dr. Gary Chafee of Paraiso Family Dental & Orthodontics in Newbury Park, CA has been practicing dentistry since 1975, so you can rest assured that your smile is in good hands. If you're interested in whitening your teeth, he can dramatically brighten your smile in a single hour with an in-office Zoom! Whitening treatment. Or, if you prefer, he can help you get the same results from the comfort of your own home over the course of a few weeks with an at-home whitening kit. To learn more, feel free to contact him via his website or at (805) 480-0033.