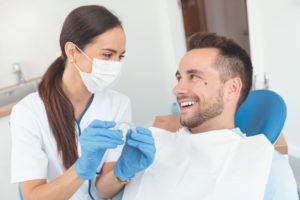 Invisalign seems like a dream come true for those who have been scared away from straighter teeth by traditional braces. These clear alignment trays are nearly invisible compared to a mouthful of metal, and their removable nature gives you far more freedom. Some even claim that Invisalign causes no discomfort at all! If straightening your teeth without any soreness sounds a little too good to be true, you're right. All teeth straightening methods cause some level of discomfort. Should you be worried about Invisalign? Your Newbury dentist gets to the bottom of this question and explains exactly what you can expect from these clear aligners.
How Does Invisalign Work?
Instead of metal wires and brackets, Invisalign uses a series of custom-made alignment trays to straighten your teeth. When you wear one, it puts a small amount of pressure on your teeth to slowly shift them into a different position. Once your teeth have acclimated, that tray is switched out for a new, slightly different one, continuing to gently create your ideal smile. Eventually, the series of aligners guides your teeth into forming a straighter smile.
Is Invisalign Painful?
Your teeth are naturally designed to stay firmly in place, so any method of straightening them is going to be a little uncomfortable. However, clear aligners are reported to shift teeth into place more comfortably than metal wires and brackets. A study conducted by Texas A&M University researched this by asking both clear and traditional braces patients to rate the pain they felt throughout their treatment. For both the first day and the first month, Invisalign users consistently scored their pain much lower than those with metal braces.
What Do I Do if I Experience Pain from Invisalign?
Invisalign is most likely to cause discomfort when you start wearing a new alignment tray. It should ease within a few days, but you can follow these tips to help minimize it:
Apply a cold compress or ice to the outside of your mouth.
Start your new set of aligners right before bed.
Stick to eating softer foods that require less chewing.
Use over the counter pain relievers like acetaminophen and ibuprofen.
While they can be slightly uncomfortable, Invisalign aligners should never cause you intense or prolonged pain. If they do, see your dentist or orthodontist right away for help.
While it may not be entirely pain-free, Invisalign is definitely worth the investment. It can help you comfortably and conveniently get the straightened smile you've always wanted — no mouth full of metal required!
About the Author
Dr. Gary Chaffee provides family dentistry and orthodontics to the Newbury Park, CA area. He graduated from Loma Linda University School of Dentistry and completed post-graduate training in the Progressive Orthodontics Program. With more than 10 years as an international instructor for Progressive Orthodontics, he believes that Invisalign offers a very convenient and comfortable way for patients to achieve a straighter smile. If you'd like to know more, he can be contacted at his website or at (805) 480-0033.