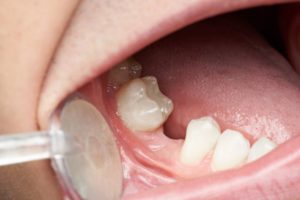 If you've been looking for a solution to replace your missing teeth and restore your quality of life, you've most likely come across the dental implant. But, have you ever heard of a mini dental implant? As you can probably guess, the primary difference comes down to the size of the titanium post itself. For patients who have been suffering from tooth loss for awhile and don't have as dense of a jawbone, this is an ideal solution that's still provides a secure and stable base for a restoration. Read on to learn more about the difference between both procedures and which one might benefit you the most.
How Do Mini Dental Implants Differ From Regular Ones?
Since the primary difference between a regular dental implant and a mini one is size, it makes sense that the one drawback would be that the implant itself may not be as strong or durable as a regular-sized one. That's just because the implant would receive less jawbone support. However, this solution is still more supportive and stable than traditional options such as dentures, fixed bridges, and crowns.
Mini dental implants are typically a great solution for patients who have suffered from decreased bone density due to tooth loss. They're still an incredible secure and supportive restoration that will allow you to eat, speak, and laugh with complete confidence that your replacement teeth are perfectly form-fitted to your mouth.
What are Mini Dental Implants Made of?
Just like regular dental implants, mini ones are also made of titanium. It's a light, yet strong metal that has amazing biocompatible properties, such as being able to naturally fuse with the jawbone and replace the roots of missing teeth. It also forms a thin oxide layer when it's placed that keeps it from corroding, allowing a mini dental implant to last for years.
How Long Do Mini Implants Last?
Decades of research have been conducted on the lifespan and success of traditional dental implants, which is how we know that they can last up to 35 years with the proper care. With mini dental implants, they may be able to last just as long. But because they're a newer solution, additional long-term research needs to be conducted to determine the average age that mini dental implants need to be replaced. With the proper care, they'll be sure to stick around for decades.
Do Mini Dental Implants Offer Different Results?
Both sets of dental implants are used to do the same thing, and both offer identical visual results. The only difference is the size of the titanium post that is placed underneath your gum, which is covered by a natural-looking restoration that is virtually indistinguishable from the rest of your smile.
The first step to take to find out whether dental implants or mini dental implants are the best choice for you is to schedule a consultation with your dentist. They'll take images of your facial structure and be able to determine whether your jawbone is dense enough to fuse with regular-sized implants, or whether mini ones are a better choice. Don't be fooled, just because this modern restorative solution hasn't been around as long, doesn't mean it isn't just as great!
About the Author
Dr. Gary Chaffee has completed years of advanced education and has also been an international instructor for Progressive Orthodontics. He has always been passionate about improving his patients' smiles so they can complete everyday tasks with confidence that their mouths will look and function efficiently and naturally. He offers mini dental implants because he wants his patients to be able to have every modern dental solution at their fingertips, so they can feel proud of their smile. For questions or to schedule a consultation, visit Paraiso Family Dental and Orthodontics' website or call 805-480-0033.