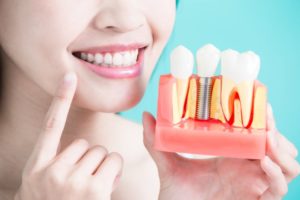 According to the American Academy of Implant Dentistry, over 3 million Americans have dental implants. If you're considering joining this rapidly growing number, you need to make sure that the process is right for you. Dental implants can restore your smile but require a serious time commitment and possibly changes in your lifestyle. In this post, your dentist lists 5 things to know before getting your dental implants.
Let Your Dentist Know About Any Health Conditions
There are certain health issues that will affect your eligibility for dental implants. This includes HIV/AIDS, uncontrolled diabetes and auto-immune diseases. An allergy to titanium will require your implants to be made of another material like zirconium, so it's important to talk to your dentist about this condition.
The Procedure is a Process
It can take months to complete the process of getting dental implants. Your dentist will first make x-rays of your mouth and create a treatment plan with you. If the affected tooth needs to be extracted or if you need bone grafting, your mouth will need to heal before the implants are placed. If mini implants are being used, they can often be placed right after the tooth extraction. Either way, your implant will need to properly fuse with your bone before your crown can be placed and complete your smile.
You Have to Attend Regular Checkups
The dental implant procedure is a multi-staged process and it's important to show up to all of your checkups. This will allow your dentist to make sure that each step is going smoothly. Even after the implant and crown are placed, checkups are needed to make sure that your mouth hasn't rejected the implant and there are no other complications.
Recovery Time Varies
Each implant procedure is affected by the unique oral conditions of the patient. Your recovery time is affected by how many implants have been placed, if you required bone grafting and how your jawbone reacts to the implant. Most symptoms will subside within a week, but the healing process will take months to be fully completed.
Smokers Beware
Dental implants have a 98% success rate. However, tobacco smokers have a higher risk of implant failure. The mouth of a smoker takes much longer to heal and sometimes never does. The constant sucking during smoking will disrupt the healing process and the extra bacteria surrounding the implant puts your mouth at a higher rate of infection. Your dentist will require you to quit smoking before the procedure and during the healing process, but it's recommended to end your habit altogether.
Dental implants can benefit almost any patient, but you should know what the process entails before starting it. Talk to your dentist today to see if dental implants can help restore your smile.
About the Author
Dr. Gary Chaffee has almost over 45 years of experience practicing dentistry. He loves restoring the smiles of patients of all ages. If you have further questions about dental implants, he can be reached through his website or at 805-480-0033.