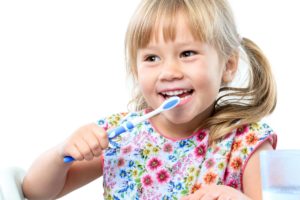 As a parent, you want what's best for your child, and that includes what's best for their teeth. It can be hard to figure out exactly what to do to keep your kid's mouth healthy. Starting certain dental habits from an early age can save your child from tooth decay in the future and keep their smile beautiful. Keep reading as a children's dentist discusses 4 ways to protect your kid's oral health.
Using the Right Toothbrush
It's best to get your child in the habit of brushing their teeth early on so that they become accustomed to it. Before your baby even starts teething, run a clean damp washcloth over the gums to remove harmful bacteria. When they start teething, use a toothbrush made for infants. There are a few things to consider when buying an infant toothbrush, such as:
Size and shape. Make sure the brush fits comfortably in your child's mouth. Toothbrushes for infants and toddlers should have a smaller and rounder head.
Handle. Pick a chunkier handle with no-slip grip to get your baby get used to holding and using the toothbrush.
Electric toothbrushes. These can make brushing fun, as they can often play music or have your kid's favorite cartoon character on them.
Flossing
Ideally, you should start flossing as soon as your child's teeth touch each other. Ask your dentist about an ideal technique.
Brush and floss before bed. After that, don't give your child any food or drink besides water until the next morning.
Your little one may put up a fuss when it comes to time to brush and floss. Make sure he or she knows that it's a mandatory routine. Here are some tips to help coax him or her into letting you help:
Be patient. Many kids aren't ready to start brushing their teeth on their own until about age 6. It can take until around age 10 to perfect their flossing skills.
Let your son or daughter choose their own toothbrush. Taking them to the store to let them pick out a brush lets them view the options. They will also be more likely to brush since they had a hand in the decision-making process.
Motivate them. Offer a prize, such as a sticker on a chart, for every time they brush and floss. This can help build the habit. You could also try brushing together every morning and night. Kids are more likely to join in when they see the grownups brushing.
Avoiding Sugar
Don't put your child down for a nap with a bottle of juice, formula, or milk. They might seem healthy, but the sugar in those drinks can stick to your kid's teeth and feed bacteria that can cause tooth decay.
Some children's medicine is sweetened. Be sure they brush after taking the medicine to prevent sugar from lingering on the teeth and causing cavities.
Scheduling Regular Dental Appointments
Making regular visits to Paraiso Family Dental and Orthodontics is important in evaluating the current state of your kid's teeth and gums. They should start coming in for regular checkups around the time that their first baby tooth erupts, with regular biannual visits starting around age one. It might seem early, but it's never too soon to get them started on good oral hygiene habits.
It's also important that they get used to going to the dentist. Many children are scared of the dentist, but coming in at a young age can help them get comfortable at their appointments.
Following these tips can help your child develop a beautiful smile. We know you want what's best for your son or daughter, and so do we. Schedule your visit today to learn how your child can enjoy strong, healthy teeth that last a lifetime!
About the Author
Dr. Gary Chaffee and the rest of the team at Paraiso Family Dental and Orthodontics offer excellent care to protect even the littlest of smiles. They will see your child at his or her first dental appointment and can continue building a relationship for your kid's whole life. To learn more about how Dr. Chaffee can help your son or daughter grow and maintain a lovely smile, click here or call (805)-480-0033.