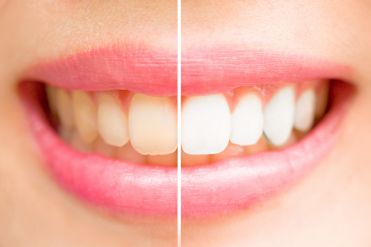 A bright, attractive smile is one of the most important features you can have. Unfortunately, most people aren't born with naturally white teeth. And, even for the lucky few who are, their smile will most likely become stained over time. The good news? There are multiple professional teeth whitening options that are safe, effective, and reliable. In this blog, you'll learn about the many reasons for discolored teeth and how you can brighten your smile and take years off your appearance. Keep reading to learn more!
What Causes Staining and Discoloration?
There are two main types of stain: intrinsic and extrinsic. Intrinsic stain occurs in the inner layers of the teeth, while extrinsic stain affects the outside surface of the teeth (called enamel).
There are many reasons for discoloration, including:
Age
Genetics
Medications (including some antihistamines, antidepressants, and high blood pressure medications, as well as certain antibiotics in childhood)
Developmental defects in the enamel
Tobacco
Foods/Beverages (e.g. red wine, coffee, tea, soda)
Blunt force trauma to the teeth
Poor oral hygiene
What Are Your Options For Professional Teeth Whitening?
You might be tempted to go with a store-bought whitening product, but the FDA limits their strength, so they can't provide the same results you would get from a professional treatment.
There are two main professional teeth whitening options, both of which provide fantastic results. The main difference is that a Zoom! in-office treatment is done in about an hour. Here's what you can expect from each procedure:
Take-Home Whitening:
This option is done in two visits. At the first, impressions are taken to custom-make plastic trays for you to use at home.
When you return to pick up your trays, you'll get a supply of whitening gel along with instructions.
You'll wear the trays for 30-60 minutes a day until you get your desired result, which usually takes about 2 weeks.
Zoom! In-Office Whitening:
After you're seated and comfortable, your lips, gums, and cheeks will be covered to protect them from irritation.
Then a whitening gel will be carefully applied to your teeth before they're exposed to a special light (in 15-minute increments) to accelerate the process.
Throughout your visit you'll be monitored for sensitivity until you get the final result.
Finally, you'll be given instructions for maintaining your new smile at home.
Which Option Is Right For You?
Having a dentist evaluate your teeth beforehand is the best way to find out which option is best for you. While many people get great results from a whitening treatment, there are others who have severe staining that doesn't respond well to whitening agents.
In these cases, a dentist may recommend porcelain veneers or cosmetic bonding to give you better results. With a treatment plan from a professional, you can avoid investing in something that doesn't work well the first time.
Regardless of which type of treatment you get, you'll soon be on your way to having a beautiful white smile that you'll love to show off!
About the Author
Dr. Gary Chaffee is a general, restorative, and cosmetic dentist who loves seeing the self-confidence his patients get after teeth whitening. He knows that every patient is unique and always starts by closely evaluating their needs so he can recommend the best treatment plan for them. If you want a whiter smile and have any questions, he can be reached via his website.