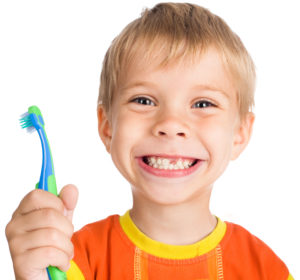 Every milestone that your baby crosses will be permanently etched into your long-term memory. The day of birth, first steps and words, and his or her introduction to eating solid foods, are all special moments for you as a parent. Another monumental time is when he or she sprouts those first little teeth. You can tell when that time is approaching because he or she may become a little fussy, but you realize that this is just a part of the process. Your pediatric dentist in Newbury Park wants you to celebrate these times, but not take for granted the importance of stressing proper oral hygiene early. Learn how you can get your young child on the right foot of oral care.
Why is it Important to Teach Proper Oral Hygiene Early?
Early childhood psychologists have discovered that your child's brain is the most malleable and capable of learning between the ages of 0 and 7. During this time, his or her brain is like a little sponge, soaking up information in remarkable fashion. That's why your dentist recommends taking advantage of this time to insert a very positive habit that will benefit him or her for the rest of his or her life – proper oral hygiene.
Along with visiting your dentist for semi-annual cleanings and examinations, oral hygiene serves as a pillar of oral health. It prevents such issues as gingivitis, gum disease and tooth loss. It also creates a pattern of behavior that influences overall health, as a person who is conscious of oral health, will more than likely also be very mindful of his or her total wellness.
How to Teach Oral Hygiene to Your Toddler
There are two great ways to teach oral hygiene to your toddler:
Use a Doll – Your child's fine motor skills may not be fully developed, so it may be harder for him or her to hold a toothbrush and use it properly in his or her mouth. A remedy, then, is to use a doll and allow him or her demonstrate proper techniques on it. This is a fun and effective way to introduce this process into your toddler's mind.
Reward System – When your child demonstrates the willingness to learn and participate in proper oral hygiene, reward him or her to build an association between the act of brushing and success.
By introducing these practices early, you are laying a firm foundation for your young child to build on and have a productive oral adulthood. Along with teaching these principles, make sure to bring the whole family in twice a year for cleanings and examinations to ensure that you maintain a firm foundation.
About the Author
Dr. Gary Chaffee graduated from Loma Linda University School of Dentistry in 1975. He would go on to complete a two-year Progressive Orthodontics Program, later becoming an international instructor. He practices at Paraiso Family Dental and Orthodontics and can be reached for more information through his website.