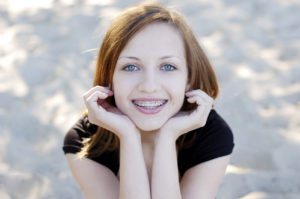 If you are ready to stop feeling insecure about your misaligned teeth, you have many different orthodontic treatments available to you. Although you know that traditional metal braces are effective, you have heard plenty of great benefits that are associated with clear aligners. While they are appealing because they are less noticeable and offer quick results, metal braces still provide certain advantages that are not possible with aligners.

Metal Braces vs. Clear Aligners
Metal braces have been the go-to orthodontic treatment for more than 100 years because they are affordable and convenient. By attaching brackets and wires to the teeth, they are gradually pulled into their ideal positions. However, they tend to be noticeable, which is why clear aligners have become popular.
Clear aligners are created in a series, which are worn over the teeth to slowly move them into alignment. They appear to be the perfect solution because they are virtually invisible while also being removable. However, while they are effective, they are not right for everyone.
Advantages of Metal Braces
In addition to a more affordable option, metal braces can treat a wider range of issues that are not possible with aligners. In fact, they can treat even the most complex bite and alignment issues; whereas, aligners cannot. They are effective for correcting malocclusions of the jaw, reducing the risk for TMJ disorders after the treatment.
Overall, traditional orthodontics are more durable than plastic aligners because they are often made from stainless steel or alloys of nickel and titanium, so you do not have to worry as much about them breaking.
With the use of new heat activated metallic wires, they can move the teeth more quickly than in the past. This reduces the treatment time while requiring fewer wire changes.
Many tend to find metal braces more convenient because they are not removable. Therefore, you do not have to worry about leaving them out of the mouth for too long or losing them. This makes it easier to abide by your treatment plan to achieve your desired results quicker.
Best of all, braces can be used for children and adults. If you are concerned about their appearance, several advancements have been made to allow them to be less noticeable. With lingual or ceramic braces, you will discreetly move your teeth with a trusted and predictable solution.
Get a Straight Smile Today
If you are ready to invest in your oral health and your confidence, it is time to see which orthodontic treatment is right for you. Your dentist will conduct a comprehensive evaluation and discuss your options to start your journey to a straight smile.
About Dr. Gary Chaffee
Dr. Gary Chaffee completed his dental training at Loma Linda University School of Dentistry in 1975. He continued his training at a two-year Progressive Orthodontics Program. To correct the alignment of the teeth and bite, he offers the most effective and preferred solutions. If you are ready to get a straight smile, contact Paraiso Family Dental and Orthodontics today to schedule a consultation.