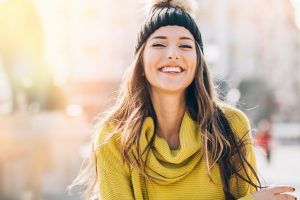 You dislike the look of your metal dental fillings in Newbury Park. Plus, you understand that they might pose some safety issues. Why not explore tooth-colored fillings with Dr. Gary Chaffee? Seamless, durable and beautiful, tooth-colored fillings in Newbury Park restore decayed teeth with less enamel preparation. Plus, they simply blend right in with existing tooth structure.
Forget You Have Fillings
You can with tooth-colored fillings from Paraiso Family Dental & Orthodontics. Made from a unique blend of glass and acrylic, white composite resin fillings are very durable and virtually unnoticeable. The restorative treatment requires less enamel preparation than old style amalgam fillings. So, your teeth are stronger, less sensitive to hot and cold and truly have a new lease on life.
Placing a Composite Resin Filling
Dr. Gary Chaffee uses local anesthesia to numb the area around the tooth, and he removes the decay with a high-speed drill. Unlike the amalgam filling, composite resin filling material bonds right to healthy tooth structure. So, Dr. Chaffee does not have to disturb healthy enamel. Metal fillings, on the other hand, just set within the tooth the way asphalt fills a hole on your neighborhood street. So, the dentist has to take out more of the natural tooth so the filling stays in place.
With a white filling, the dentist layers the tooth-colored resin into the tooth, hardening each layer with a curing light and strengthening the bond. Dr. Chaffee artistically shapes the material to ensure proper bite. Composite resin fillings remain functional for up to 15 years and have less sensitivity to hot and cold than teeth restored with amalgam.
In summary, metal fillings are unattractive, particularly if they show when you smile. Plus, metal filling material creates dental sensitivity and requires extensive enamel removal around the decay.
Conversely, composite resin fillings are absolutely seamless, beautifully colored and textured and are metal-free. They restore teeth anywhere in the mouth and are extremely strong, bringing back about 70 percent of the tooth's original biting force.
Replacing Metal Fillings
Some people with multiple metal fillings, especially in the front of their mouths, want to makeover their smiles with tooth-colored fillings. To accomplish this, the dentist can replace the fillings in a section of the mouth at a time, beginning in the front.
Other reasons to replace metal fillings are:
A metal filling is cracked
A tooth is sensitive to heat, cold and pressure
Saliva and food are seeping into a filling, increasing bacteria and the likelihood of additional decay or infection
A metal filling is very old
What are Your Options?
Composite resin is a wonderful filling material. Dr. Chaffee also uses it to fill small gaps, chips and other small defects. It resists stains and wears well.
If you need a filling or wish to replace old ones, contact Paraiso Family Dental & Orthodontics for a restorative dentistry consultation. You will be pleased with the options you have for an attractive, healthy smile.