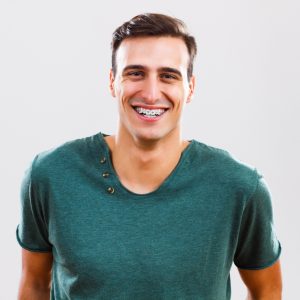 Crooked, gapped, overlapped teeth? Not for long. Visit Paraiso Family Dental & Orthodontics. Our friendly, Newbury Park dental team offers a wide variety of orthodontic treatments to straighten any smile no matter your age, budget, or lifestyle. From traditional braces, to tooth-colored braces, lingual braces, and Invisalign, we've got an option that will leave you with a smile you'll love to share.

A Brief History of Orthodontia
Ancient Egyptian and Roman tombs have examples of early orthodontic treatments, but the dental specialty we know today began with the 1879 publication of, A Treatise on Oral Deformities as a Branch of Mechanical Surgery. With this text, Norman Kingsley established orthodontics as a necessary specialty in dentistry. The founding fathers of orthodontics who followed, Edward Angle and Calvin Case initially considered orthodontic treatment to be mostly cosmetic, though they touted the benefits of more even bite pressure to protect dental structure. After years of continued research, most dental professionals now recognize correct dental alignment as necessary for optimal oral health.
How Braces Work
Teeth may be small, but there is a complex system that stabilizes and shapes every smile. In order to change the alignment of teeth, braces slowly remold the structural integrity. Traditional braces use brackets, wires, and ligatures to gradually shift teeth into place over the course of several months. Here's how it works:
Brackets are placed on each tooth using wires or bonding cement
An arch wire connects each bracket allowing your orthodontist to adjust the alignment of teeth by shifting the pressure between brackets
This initial pressure moves the surface level portion of the tooth, the crown
As the crown of the tooth shifts, below the gum line, the roots of the tooth are moving compressing the gum tissue on one side and stretching the tissue on the other
This tissue compression and stretching loosens the tooth
As the tooth is held in this position, the alveolar bone (part of the jawbone that supports the tooth) grows in firmly anchoring the tooth
After a period of months, all of the teeth are shifted into proper alignment and supported by new bone growth
Traditional Braces Benefits
Many patients don't want traditional braces because the metallic wires and brackets are the most noticeable, but when it comes to outstanding orthodontic treatment, traditional braces are sure to deliver. Some of the benefits of orthodontic treatment with traditional, metallic braces include:
Tried and true – traditional, metallic braces have been used for hundreds of years, and deliver predictable results for all patients.
Budget friendly – compared with other types of orthodontic systems, traditional braces are a more frugal choice. Not only are they made from less expensive materials, but they also take less time to make and attach. Finally, traditional braces are covered by many insurance providers.
Effective for any orthodontic concerns – no matter how badly misaligned the bite, traditional braces effectively correct any smile irregularities. Some non-traditional orthodontia is only effective for certain types of malocclusion.
Find Out More about Braces Thousand Oaks
At Paraiso Family Dental & Orthodontics, we offer a wide range of orthodontic solutions for the whole family. One of our most popular treatment options is early orthodontic treatment to help kids realign teeth before misalignment happens. This pre-orthodontic treatment saves time and money in the long run. To find out more about any of our orthodontic options, contact your Newbury Park dental team today.