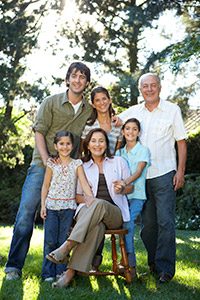 We guarantee that the friendly, knowledgeable staff at Paraiso Family Dental & Orthodontics will consistently exceed your patient care expectations. Dr. Gary Chaffee has 40 years of experience in general, cosmetic and restorative dentistry as well as extensive orthodontic training. Dr. Chaffee has provided orthodontic lectures and training throughout the United States and in 15 countries internationally. His vast knowledge and years of dental practice mean that you receive the best possible dental treatment in Newbury Park, CA 91320. Call today to schedule an appointment for any of our wide array of dental and orthodontic services.
Outstanding Dental Services for Families in Newbury Park
Dr. Chaffee and his dedicated staff provide a wide range of dental and orthodontic services, in our comfortable, state-of-the-art facility. Our patients will receive consistent, quality oral health care from cleanings and check-ups to root canals and braces. Paraiso Family Dental & Orthodontics provides preventative, restorative, cosmetic, sedation and pediatric dentistry as well as a full range of orthodontia.
Preventative dentistry is the first step in the process of life-long dental health. Our knowledgeable staff will examine your teeth at each visit for signs of common concerns (gum disease, teeth grinding, and decay) as well as screening for oral cancers and TMJ. Our hygienists will provide you with an excellent in-office cleaning, and help you to develop or maintain your at-home dental hygiene routine. Regular check-ups and hygiene appointments can help treat and prevent numerous oral health issues.
Restorative dentistry is necessary when our first line of defense, prevention, is beaten by bacteria causing decay, facial injury leading to tooth cracking, chipping, or loss, or any other possible dental health concern. Restoration dentistry strives to return existing teeth to their natural look and feel rather than replacing teeth whenever possible. Your healthiest smile is strong, looks natural, and feels comfortable. Restoration allows you to chew foods thoroughly, speak clearly, and have a picture perfect smile. Our restoration services include
Cosmetic dentistry is not just for looks. Our cosmetic services include teeth whitening, porcelain veneers, bonding, and clear braces. Patients who have received teeth whitening treatment report teeth feeling cleaner between checkups. Porcelain veneers and bonding not only transform and perfect the look of your smile, they also give you added protection from bacteria, enamel decay or erosion, and staining. Most adults who wish to correct an irregular bite find braces costly and embarrassing. Clear braces are often more cost effective for adults, generally correct your bite in less time, and remove the embarrassing metal smile so you have a better smile from day one. Our staff can help you determine if any of our cosmetic dentistry options are right for you.
Dental anxiety affects more than 50% of Americans. The root of this anxiety is often a traumatic experience with a dentist. Our office offers oral sedation to relax our patients before they ever set foot in the office. By reducing the stress associated with dental appointments, oral sedation provides significant relief for patients who suffer from Dental Anxiety. Sedation also makes it possible to perform multiple dental procedures in one visit. Talk to Dr. Chaffee today about our oral sedation treatments.
The cause of dental anxiety is often a bad childhood experience at the dentist. At Paraiso Family dental, we work to provide the most comfortable environment, and superior care for our patients of all ages. We encourage you to bring your child to one or more dental visits with you before they have their first visit. This allows them to become familiar with what happens at the dentist. Additionally, we work to educate you and your child on proper at-home care for little mouths.
Not all dentists are orthodontists. Orthodontics is the practice of correcting teeth and jaws that are irregularly aligned. Misaligned teeth and jaws create difficulty in cleaning, can shift or loosen, and are more likely to lead to TMJ. Dr. Chaffee has extensive training in orthodontics, and offers traditional braces, clear braces, and IPS – individual patient systems. Having educated dentists internationally on orthodontic practice, Dr. Chaffee provides superior orthodontic care with the most up-to-date treatments and technologies.
The Paraiso Family Promise
At Paraiso Family Dental and Orthodontics we don't just treat your whole family, we treat you like our family. Your comfort and care are always our chief concern. With 40 years of experience, Dr. Chaffee and his team will change your mind about visiting the dentist.
Schedule Your Appointment Today
For all your dental and orthodontic needs, Paraiso Family Dental & Orthodontics in Newbury Park, CA is here to help. Call our office today to schedule a checkup or consultation. We welcome patients from Newbury Park and surrounding areas including: Malibu, Santa Clarita, Santa Monica, and Westlake Village.