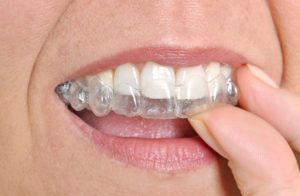 Oh, to have a beautiful and straight smile. Wouldn't that be nice? Everyone pines for a smile that can turn heads in all the right ways. Look at celebrities; their smiles literally look like a million bucks. You'd be surprised to know that you don't need to be loaded like a celebrity in order to get the smile you've always wanted. Did you know there are ways to straighten your teeth that take a lot less time than traditional braces and aren't nearly as painful? Invisalign is a name you should get to know. It's a state-of-the-art straightening device that "invisibly" shifts teeth into position. More patients, especially adults and teens, are choosing Invisalign over any other straightening treatment out there, and for good reason. Our Newbury Park, CA office has the tools and team to get you the smile you've always wanted, and Invisalign is one of the ways we can improve your smile's appearance. After reading this blog, you'll never consider traditional braces treatment again.

Why You Should Choose Invisalign over Traditional Braces
For starters, let's look at each system's setup. In the past, as you know, traditional braces were the preferred method of straightening teeth. For those that had braces, you know the experience all too well. For those who've never had the "pleasure" of receiving this treatment, the rundown is pretty basic:
Sharp metal brackets
Wires that are prone to pricking the inside of the mouth
5-year average treatment time
Many adjustment appointments
Pain and discomfort throughout treatment
Through all of that, you still get a perfectly straight smile. Though there is light at the end of the tunnel, just getting there can be a chore; a very long and tedious chore.
On the flip side, Invisalign offers a completely different type of treatment without the need for painful metal brackets or uncomfortable wires. Here's what you get when you choose state-of-the-art Invisalign treatment:
Clear aligners
Smooth, comfortable plastic
5 years maximum treatment time
You can take the device out whenever you'd like
Brush and floss regularly as you normally would
If only traditional braces could be removed, then there would be A LOT of happy patients. When you have benefits as great as the ones Invisalign offers, you'd be foolish to want to try anything else. Though it is the most preferred straightening treatment available, it's unfortunately not for everyone. It's important to schedule an appointment to see if you're a candidate.
Are You Eligible for Invisalign? Schedule a Consultation
Paraiso Family Dental and Orthodontics is proud to offer this service and wants you to experience the best in straightening treatment. Dr. Chaffee will know whether or not you're eligible for treatment, so be sure to schedule a consultation first at our Newbury Park, CA office. We invite our neighbors in Camarillo, Thousand Oaks, Oxnard and beyond to visit our office!